Hi everyone! My name is Kelsey, and I'm a senior (hard to believe!) Journalism, Communication, and Psychology triple major here at Canisius. This semester, I'm completing my first internship through the college at Buffalo Rising digital publications. I feel that I have to give a special shoutout to Bridget Brogan for telling me about the organization and sparking my interest in them 🙂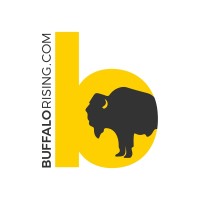 So far, my experience with Buffalo Rising has been GREAT! My supervisor, Jessica Marinelli, is absolutely amazing, and the team has been so welcoming and accommodating as I get settled into my position. Currently, my internship is fully remote, but I see everyone at morning zoom meetings, which is nice because it's an opportunity for interaction!
At the start of my internship, I had a meeting with Jessica to talk about my goals for the semester and my career path post-graduation. During our discussion, we talked about assignments that would combine my passion for sports with my passion for broadcast journalism. We decided that, during my internship, I will be tasked with creating a profile series on female student-athletes within the community, which is something I'm absolutely thrilled about!
Since I had to find candidates for my stories (there will be about six), the first week and a half at my internship was primarily research-based… I was contacting colleges, high schools, and athletic clubs in Buffalo and the surrounding areas to get suggestions for potential subjects. After I found some leads, I spent a lot of time looking up the accomplishments and statistics of the athletes to narrow down my list. Once I solidified my choices, I started reaching out to the athletes directly, which involved lots of emails and phone calls (everyone's favorite).
As of Friday, February 19, I officially have all six of my candidates confirmed, which means that I can get onto the exciting part… filming, interviewing, and editing 🙂 I'm looking forward to the next couple of months at Buffalo Rising, and I can't wait to start working with my athletes to share their stories!